Dr. Matthew A. Romano, M.D. is an Assistant Professor of Cardiac Surgery and the Assistant Director of the Mitral Valve Clinic at the Frankel Cardiovascular Center at Michigan Medicine. His clinical interests and expertise include mitral and tricuspid valve repair, minimally invasive valve surgery, percutaneous and catheter based mitral, and tricuspid valve repair and replacement, and the treatment of atrial fibrillation using the Maze Procedure.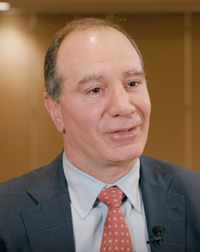 Given his interests in atrial fibrillation, Dr. Romano has established a minimally invasive surgical program for isolated treatment of atrial fibrillation. Watch the video below to hear Dr. Romano explain how surgical ablation impacts patient survivability and quality of life.
The key highlights from Dr. Romano's interview include:
There is an improved survival rate during the concomitant treatment of atrial fibrillation during other forms of cardiac surgery like a valve and bypass procedures.
Allocating adequate time to understand the anatomy of the heart and the areas targeted for surgical ablation lead to improved surgical outcomes.
Patients gain a sense of hope when they are informed that they may be able to stop anti-coagulant therapy dependent on the outcome of the surgical ablation performed.
Video Transcript
For the hearing impaired members of the AFibSurgeons.org community, we have provided a written transcript of Dr. Romano's video below: 
I started thinking about adding atrial fibrillation treatment to my cardiac surgery cases on two different instances. Once, I remember when I was seeing a patient in clinic when I was – during my training, and she said to me, "Hey, can you do anything about this AFib that I have, too, when you're going to fix my valve?" I said, "Oh, you know, yeah, we can do something."
Then I remember reading a paper in one of our surgical journals that showed an improved survival if you treat atrial fibrillation undergoing other forms of cardiac surgery like a bypass procedure, and there was an improved survival compared to if you didn't treat AFib, so that really got me thinking. Knowing a few people that are miserable with atrial fibrillation, I really developed a passion for it and it's been an evolution for me because as I learned more about it through the course of my career, I really did a deep dive and learned more about the anatomy of the heart and the areas we surgically treat and ablate.
Not surprisingly, that has actually led to improved results. When I looked at the data in our state and saw that there was a survival benefit if you treated atrial fibrillation at the time of patients undergoing mitral valve surgery. As my practice evolved and my results improved, which are now hovering in the high 80s, low 90s.
What was most important to me was to see how the patients responded and when you get them out of atrial fibrillation, they are so relieved that they don't have to take anti-coagulation, if I can get them off that, and overall I've noted a remarkable improvement in overall how they feel. One of the first questions they ask me is hey, Doc, can I get off the blood thinners. I say you know, I can't guarantee it, but I'm going to do my darnedest to make it happen.
Just to see that smile on their face that there is that hope that they can get off the anti-coagulation, which otherwise they're told they're going to be on for the rest of their life, to me is incredibly rewarding.